Polydomed Labels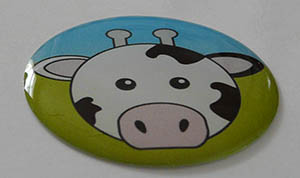 Insignia Labels are a leading supplier of polydomed labels or emblems which are an excellent way of enhancing the visual effect of labels and add that "quality, high value" feel to many manufactured goods such as computer or electronic products, badges, identification labels, key fobs, car or motorcycle parts, helmets or accessories and are widely used in promotional goods to improve brand awareness.
So whether you are a specialist manufacturer, importer, advertising agency, designer, marketing or branding consultancy, car-owners club or retailer, we specialise in providing the highest quality, cost effective polydomed labels of any size, shape or colour in small to large sized runs. Our full colour polydomed labels can be personalised to suit your individual needs and branding requirements.
Specialists in Polydomed Labels
3d Resin Doming is now very popular bringing normally flat labels to life. The liquid polyurethane resin is applied as the final operation after the label has been printed and die-cut. It is applied in a liquid form and flows to the edge of the label and sets after 24 hours giving an impressive 3D effect similar to embossing. The label is usually made as an oval or oblong, although any shape can be manufactured and is usually made from plastic films such as polyester or vinyl.
We produce a variety of polydomed labels so if you are looking to improve the impact of your existing flat labels or launching a new product then please give us a call. The labels can be printed to portray an exclusive "premium product look", a "high tech" look or whatever image you want to portray on your products or to add a unique touch to your brands. At its best a high quality polydomed label can be an effective "silent salesperson" simply because it is always visible and a constant reminder of the supplier of the goods. Whatever type of polydomed label you are looking for, we have got the answer, so please give us a call.
Supplier of Polydomed Labels
Insignia Labels strive to offer the most flexible manufacturing options for your polydomed labels, using the latest manufacturing processes. Our label printing presses are ideally suited for the manufacture of small to large sized runs of polydomed labels and we manufacture polydomed labels in a variety of shapes, colours and sizes, which enables us to serve this market to a high standard.
With our extensive label printing experience we feel we can provide a solution for all your polydomed labelling requirements.
Additional Information on Polydomed Labels
If you would like further information on polydomed labels, then please contact us now for free polydomed label samples or a free quotation.